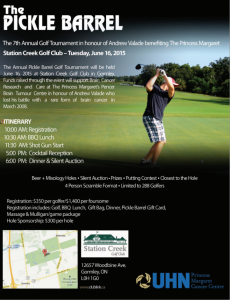 I am pleased to inform you that last year The Pickle Barrel Golf Tournament raised $39,225 for Princess Margaret Hospital.
This year we are holding our 7th Annual Pickle Barrel Golf Tournament on Tuesday, June 16th, 2015 at Station creek Golf Club in Gormley. Details are attached.
Funds raised through the event will again support Brain Cancer Research and Care at the Princess Margaret's Pencer Brain Tumour Centre in honour of our son Andrew Valade, who lost his battle with a rare form of brain cancer in March 2008.
More than $210,000 has been raised during the past 6 tournaments and our goal this year is to raise $50,000!
Or contact Dan Valade at 416 605 4533 or email dan_valade@ca.campbellsoup.com
Thanks,
Dan Valade